Out-going Faculty – Ross Anderson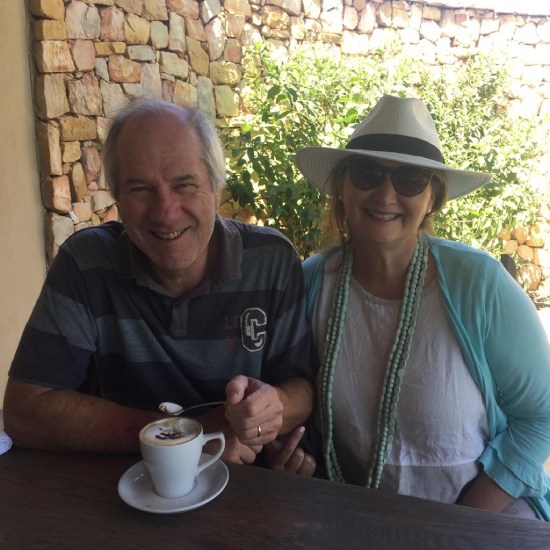 Since retiring, faculty member, Ross Anderson, has registered at the University of the Western Cape (UWC) to do a PhD in missiology (church and society). His preproposal was accepted at the end of last year and he subsequently completed and submitted his Research Proposal in September 2021. This has been accepted by the University Committee for Higher Degrees and he will begin to write up his thesis, which he aims to complete by November 2024. His PhD title is The attack on St James Church: Assumptions on church-and- society in responses of the Church of England in South Africa.
We asked Ross to give us insight into his 12-year tenure as faculty at GWC.
Describe your 12-year tenure as a faculty member, and Lindy's as dean of women – and currently dean of faculty wives and women staff at GWC.
For both Lindy and I, our 12 years of full-time service at GWC have been happy and fulfilling. We are greatly blessed to have been part of the GWC family.
What has been at the heart of your journey?
The kingdom of God. And of course our beloved students, fellowship, community, teaching, Explore and too much admin! Over the years I taught Deuteronomy, Biblical Theology, NT Greek 2B, Mark's Gospel, John's Gospel, Romans, the Pastoral Epistles, various modules on preaching and the three missiology modules.
How did developments and growth at GWC impact you?
It was exciting, humbling, and all positive – including the upgrading of our campus and the completion of the Hope Mothlope Student Centre, a world class residential building with the best food in Cape Town!
Did you find yourself having to equip students in new and non-academic ways to cope with the pressures of ministry in 21st Century Africa?
Yes. Our weekly Fellowship Groups are important times for prayer, devotion, mutual encouragement and building each other up in the Lord. We actively pray and work for our community (staff and students) to grow in the grace of our Lord Jesus.
How have later intakes of students been different in their approach to theological studies than the ones who have gone before?
The world context is different, not so much the students. The South African and global context has changed significantly over the past 12 years, e.g. the devastating effects of global warming for many countries in Africa; the growing use of social media which fueled mass protest movements such as #BlackLivesMatter, #MeToo, Rhodes must fall, fees must fall; more recently the lawless looting in KZN and Gauteng; gender-based violence; the new apartheid; and the COVID-19 pandemic. All this raises major questions in relation to church-and-society and missiology. In our own denomination important documents have been circulated dealing with racism, systemic racism, inequality and transformation. As a result, later intakes of students have had their hands full trying to process all these events and changes, and it has been our duty and privilege to help equip our students to engage with these realities from a biblical point of view, always remembering that although God's kingdom is not yet consummated, it has been inaugurated.
We are thankful for the faithful service of Ross and Lindy over the years and are pleased that Ross will continue to teach Missiology in 2022.