Explore Manager, Nevil Carrington, spent 10 days in Uganda and Kenya in October 2021. Firstly, to train delegates from the Faith Harvest Churches of Fresh Hope denomination in Tororo, Eastern Uganda and, secondly, to work toward finalising a Memorandum of Understanding between Explore and African Enterprise (AE) in the Southern region of Kenya.
Nevil was joined in Tororo by GWC alumnus, Rev. Grace Kavuma, who spearheads Explore in Uganda, along with 15 delegates from Faith Harvest Churches of Fresh Hope, who were registered to partake in the 3-day training session. Most of the delegates are fairly fluent English speakers, which Nevil found most encouraging. In the training, a template for facilitating Explore was shared and the delegates were given an opportunity to reproduce this themselves, while at the same time, the facilitation style that GWC proposes is best for working through Explore modules was demonstrated.

Nevil says, "I am heartened that all 15 trainees who enrolled have since elected to continue with Explore the Bible. Grace Kavuma and Eleanor Kwizera will be walking closely with them as they work through this material. There were two delegates who expressed a very strong interest in attending GWC, both whom, with a slight improvement in their English, will make good theological students."
While in Kampala, Nevil met with the local team from Living Word International, who are involved in training on their campuses and are keen to see how the Explore material will fit in with their training programmes. This was a very fruitful meeting and Grace will be arranging training for their leaders, so that they can facilitate the Explore material.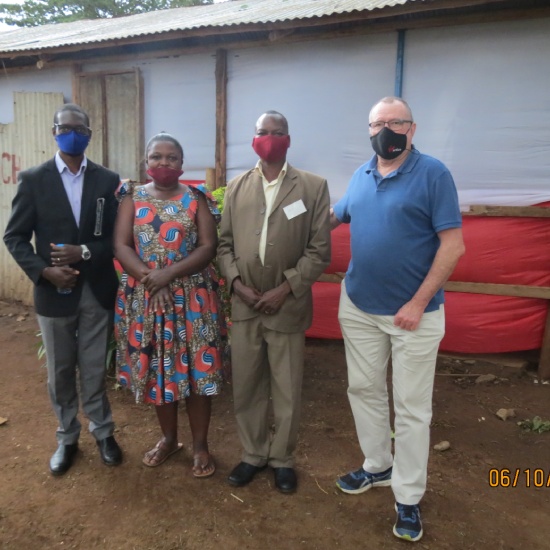 After he received a negative COVID-19 test result, and before travelling to Kenya, Nevil spent most of the morning of 7th October with Oscar from African Enterprise (AE). Unfortunately, most of the team at AE Uganda have departed. However, Oscar is very passionate about the role that Explore can play and AE has decided that they will play a consulting role and allow a mission coordinating committee to take ownership of a programme where about 200 pastors, many of whom have no theological training at all are introduced to the Explore material. It has been requested that the Explore team provide facilitation training to about 40 of these pastors, all of whom have some form of theological training. They would then be responsible for training the other pastors.
Once he had landed and was settled in Nairobi, Nevil met with and encouraged Mesheck Mbevi, a former GWC Master's student who has planted a church in the town of Thika and whose leaders have completed the Explore course. Mesheck agreed that during 2022 he would find some time to promote Explore with the intention of putting together a cross-denominational group for facilitation training early in 2023. Nevil also had dinner with Simon Mundu, the Operations head of African Enterprise International (AEI), who indicated that after a few challenges with the AE Board in Malawi they have now at last established the Southern Region which includes Zambia, Malawi and Zimbabwe. The region has a director, Dr Lutango Lubasi, based in Lusaka, along with mission directors in all three countries.
From an Explore point of view, this structure will be greatly beneficial in breaking down the walls between countries and will allow consistency in the partnership across the region. Nevil will shortly be finalising a Memorandum of Understanding between Explore and AE in the Southern region. It was agreed that Explore will partner with AE as they move to the Western Region for their next mission in Kasese in 2022. This is an answer to prayer as Explore's project with the Church of Uganda started with the Central region and it had yet to be determined whether Explore heads to the west, north or east next year.
Click on this link if you would like to donate to the work of Explore in providing theological education to pastors and teaching congregants more about God's Word, in Africa