Kwazi Buthelezi, Campus Worker at The Bible Talks KZN – Edgewood Campus
Tell us about the ministry that you've been serving in since leaving college:
I am mainly serving students on the University of KwaZulu-Natal campuses through the ministry of The Bible Talks (TBT) in KZN. This is my primary vocation. So I get up to things like walk-up evangelism, preaching in lecture rooms, running Bible studies, mentoring both TBT staff and students, and training others for ministry.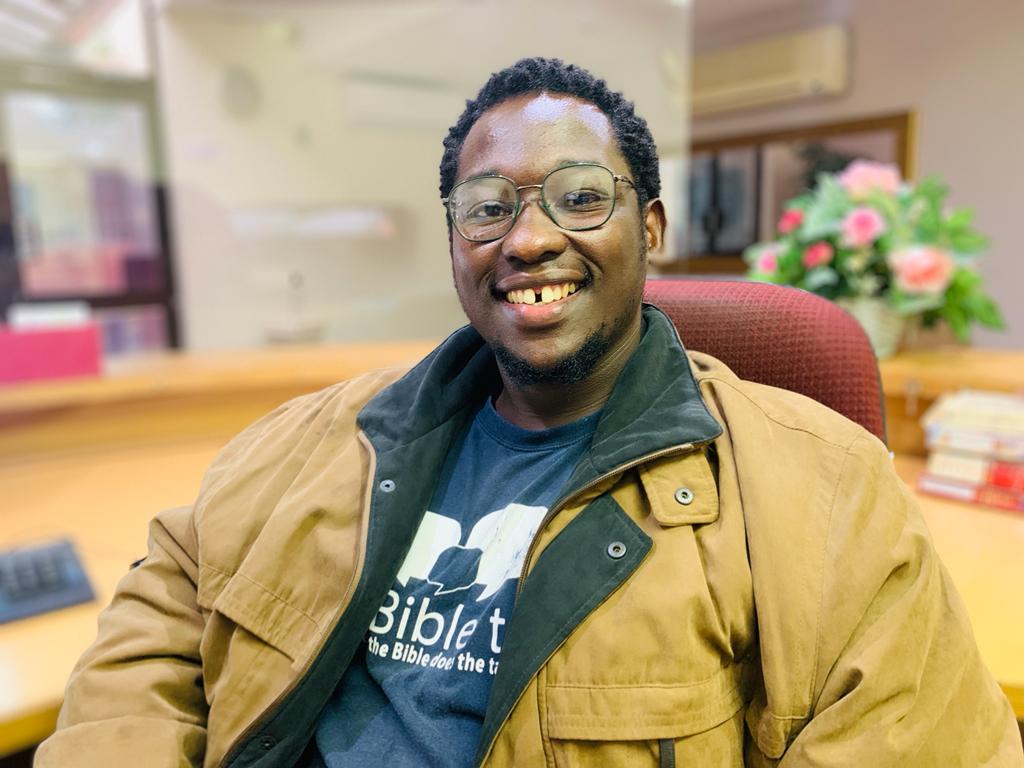 But in addition, I've since moved from Trinity Church Morningside (the church that sent me to GWC) to Christ Church Glenwood. In both churches, I sought/seek to serve in any way possible. I avail myself for preaching as often as possible, leading small groups, and building relationships through which I may channel the gospel.
What's been your greatest challenge, leaving college and re-entering full-time ministry?And the greatest encouragement?
I've had quite a ride getting back to ministry. For the most part, I think I have been trying to get a grasp of my role in ministry as I serve both students via TBT and in my local church. The biggest challenge has been the lack of clarity in this regard: how do I serve as Kwazi? The temptation postcollege has been to copy others.
Learning from others is good and commendable, but copying others, at least in my experience, has caused many heart struggles.

For example, it's hard to know—especially if you love preaching—what makes a good sermon. Simultaneously, it isn't always obvious what producing a good sermon entails. After months of heartache, especially cold sermons, I'm grateful to God for revealing and confronting this heart issue. My discouragement resulted from forgetting one of the most important things I learnt at GWC from Steve Rockwell: "We only ever perform for the audience of one."
I laboured hard to sound and therefore write like the preachers I admire. But, in the process, I forgot that I am not them, let alone my relative lack of ministry.
I wasn't content with the growth God was working in me. I strongly desired other people's journeys without even realising it.
The heart antidote was remembering that I must serve God, not attempt to please others. The best part is, he's already pleased with us in his Son. So we needn't perform to please but to serve from within his grace. We work with what he's given us.
And the greatest encouragement?
The biggest encouragement has been the opposite: seeing ministry outside the sole scope of preaching and the desire to be a great preacher. Good as the desire may be, it blinded me to the full scope of ministry and God's strategy for ministry, that is, kingdom work through discipleship. This awakening, as I call it, has been relatively recent.
In the month of September, I met with two old friends. One I met at college. The other I knew from before. Speaking to them, I was confronted by two facts: firstly, the significance of discipleship in kingdom work; and secondly, how much I'd been distracted from that work. As a result, I'm aiming to focus my attention in this last term mainly on discipleship.
Name one thing you've learnt in ministry that you wish you'd known before leaving college:
Reflecting on the conversations I had with the two brothers already mentioned, I've come to realise the crucial importance of gospel partnerships. Ministry can feel lonely.
Without a team, without brothers and sisters encouraging you, praying for you and cheering you on, ministry would be too much to bear.
Had I thought more about this while at college, I'd have spent more time with these brothers while I had easy access to them. I wish I had spent more time getting to know people, not just acknowledging their presence at dinner and in the lecture rooms. I wish I'd asked more questions and worked harder at doing life with them because ministry is essentially about partnership.
What would you say to those leaving GWC at the end of 2022 to head out into ministry?
In his hymn, Facing the Task Unfinished, Frank Houghton wrote: "Unnumbered souls are dying and pass into the night." To those leaving college later this year, we're rejoicing with and praying for you. My prayer is that you'll continue to die to self for the kingdom's sake; that the love of Christ and the glory of God will be your sole motivation because you're "convinced that one died for all, and therefore all died, and he dies for all that those who live should no longer live for themselves but for him who died for them and was raised again" (2 Corinthians 5:14-15).
Why consider postgraduate studies at GWC?
GWC offers advanced-level training in Bible and Theology with you in mind.
Faith & Mission:
A gospel-centred, evangelical, academic environment.

Strong Evangelical convictions

Classical disciplines applied to African ministry today: biblical studies, systematic theology, and mission.

Focused on African needs with continent-wide influence

GAFCON-aligned